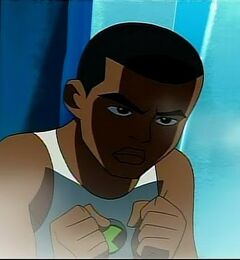 Alan Albright (from Ben 10: Alien Force / Ben 10: Ultimate Alien) is the sixth member of
The Red Arrow Force
squad, one of the allies of
Team Isberto
. He is a 1/2 human and 1/2 Pyronite hybrid and a member of Ben's team. Alan is the son of a Pyronite Plumber from whom he obtained the Plumber's Badge that he wears on his chest. Because the badge is visually identical to the Ultimatrix symbol, Alan bears a strong resemblance to Heatblast, but is much thinner and smaller.
Ad blocker interference detected!
Wikia is a free-to-use site that makes money from advertising. We have a modified experience for viewers using ad blockers

Wikia is not accessible if you've made further modifications. Remove the custom ad blocker rule(s) and the page will load as expected.