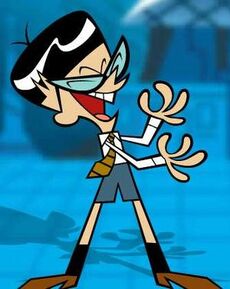 Mandark (from Dexter's Laboratory) is the villain who is the arch-nemesis of Dexter and is also on Ganondorf's side as part of the Ganon Force in The Ian Isberto Adventures series. Mandark's schemes are generally evil and are designed to gain power for himself while downplaying or destroying Dexter's accomplishments. Dexter often makes better inventions than Mandark, but Mandark tries to make up for this by stealing Dexter's inventions. Mandark is also in love with Dee Dee, though she prefers to ignore him and never returns his affections. As the series progressed, Mandark's schemes became significantly more evil, his laboratory darker-looking, industrial and angular, in contrast to his original brightly-lit lab which had more rounded features.
Appearances
Edit
Ad blocker interference detected!
Wikia is a free-to-use site that makes money from advertising. We have a modified experience for viewers using ad blockers

Wikia is not accessible if you've made further modifications. Remove the custom ad blocker rule(s) and the page will load as expected.