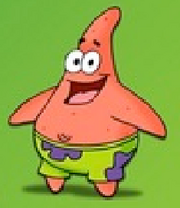 Patrick Star is another sea friend of Cody and the best friend of SpongeBob SquarePants. Similar to SpongeBob's super-human abilities of shape shifting, duplication, invulnerability, and regeneration, Patrick has shown to possess superpowers such as flight, great strength, and smartness (find his coral brain).
Interactions With Others
Edit
SpongeBob SquarePants (Best Friend)
Squidward Tentacles (Neighbor)
Sandy Cheeks (Friend)
Gary The Snail (Cousin)
Plankton (Enemy/Arch-Rival)
Apparently, He became smart before, but he's just plain ol' dumb so the only way to find his actual brain is finding a coral brain.
Patrick will soon be learned to be an advanced hero one day by being his alter ego to increase his abilities.