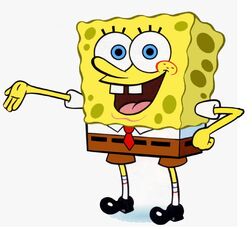 pSpongeBob SquarePants (voiced by Tom Kenny) is another one of Cody Webb's sea friends and a best friend of Patrick Star.
He lives in the UnderWater world of Bikini Bottom. SpongeBob is a very clueless, immature, and hyperactive character with a happy-go-lucky personality and a heart of gold. He is an extremely determined person, and will often stop at nothing to accomplish a task, especially if its concerns his friends. He is also somewhat dramatic to the people who are kind to him, for example, to the mailfish. He is also very over-confident and tends to make a big deal of small problems, such as losing his name tag.
Interactions With Others
Edit
Patrick Star (Best Friend)
Squidward Tentacles (Neighbor)
Sandy Cheeks (Friend)
Eugene Krabs (Boss)
Jimmy Neutron (Friend)
Timmy Turner (Friend)
Danny Phantom (Friend)
Jenny/XJ9 Wakeman (Friend/Partner)
Plankton (Enemy/Arch-Rival)
Oggy (Friend)
Zig and Bernie (Friend)
Section heading
Edit
Write the second section of your page here.